Description
ThiActive B-Complex provides a full spectrum of nutritional B vitamins to complement the action of thiamine (vitamin B1) within the cell, including two different forms of thiamine with high bioavailability.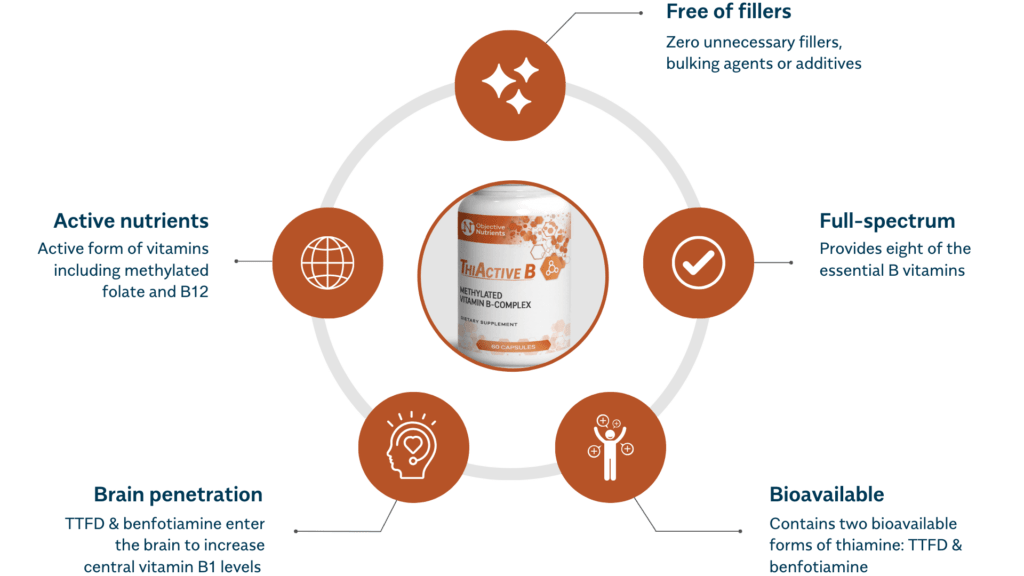 Benfotiamine is an S-acyl derivative of thiamine known for its ability to improve blood sugar management and support peripheral nerve function. Thiamine Tetrahydrofurfuryl Disulfide (TTFD) contains one thiamine molecule bound with a sulfur-mercaptan group, which provides it with unique properties. The molecular structure of these two thiamine derivatives allows them to pass through intestinal and cellular membranes without the requirement for a transport system. Once inside the cell, they deliver thiamine which can be activated and used as a cofactor in important biochemical processes.
To support the process of methylation, this complex includes active folate in the form of L-methyl folate, along with non-methylated folate in the form of folinic acid (calcium folinate). Similarly, two types of active vitamin B12 are provided in the forms of methylcobalamin and adenosylcobalamin.
This formula also contains the activated form of vitamin B2 (riboflavin-5-phosphate) and vitamin B6 (pyrixodal-5-phosphate). As an additional ingredient, D-ribose is included as a sugar precursor to promote cellular ATP production. This product was designed for people who feel that they benefit from methylated vitamins in their active form.